Welcome to Granada Football Club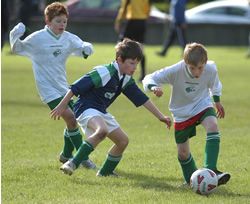 Granada Football Club is one of the largest schoolboy/schoolgirl clubs in Dublin. We have close to 400 players and are fielding 30 teams every weekend from August-May, on a completely voluntary basis.
The club uses pitches at Holly Park primarily for seven-a-side games and at Meadowvale just off Clonkeen Road.
The club also has a "Development Squad", preparing those younger children for the Under 8 leagues.
Development Squad - Matches in Holly Park Vs Dalkey this Saturday 1st March
Feb 28, 14
From: Guy Fletcher [mailto:guy.r.fletcher@gmail.com]
Sent: 27 February 2014 21:12
To: Jenny O'Neill; elenaranalow@hotmail.com; Karen Walsh
Cc: Neil Kerrigan; Quinless, Martin; Gary Quinlan
Subject: Fwd: Granada Dev Squad - arrangements for this weekend
Hi All,
We've arranged a match with their peers from Dalkey United this weekend, to give the kids the chance to showcase their skills.
The venue is the pitches at Holly Park (where we played before Xmas), not the all weather pitches at the Blue Pool. We're aiming for a 9.30 start, so if you could get there for 9.15 that would be great.
The grounds is still a little soft, so footy boots and shin pads are recommended.
The kids will be playing a series of 4v4 matches, so if any parents feel like stepping in and helping to referee a match that would be great. The 3 coaches will be there, but we'll probably have 6 mini matches going.
Any questions, contact me on this email or 0872074079.
Martin - could you please add this to the Granada website?
See you then.
Regards,
Guy
more >
---
Registration for 2013-14 Season

Sep 27, 13
Registration and subscription fees for 2013-14 season:
The next registration sessions will take place on Saturday 28th of September 10am to 12pm in the Club House, Holly Park.

- Registration for all players from development, 3x3 to U19 teams will take place at the Club House Holly Park 7-9pm this Saturday 28th September from 10am to 12pm.

All players u9 - u19 must be registered before first games of new season. The Development Squad is running each Saturday at 9.20am in Holly Park.



The registration process will follow the same process as last year.

Anyone who is wishes to register for the Development Squad (children born in 2006 & 2007) should download the same form for registration as detailed below. The Development Squad will commence Saturday the 21st of September in Holly Park at 9.20am.

Any player who is playing u8 3x3 should also download the same form for registration as detailed below.

Any player who is playing for a team from u9 to u19 must complete the full registration process as outlined below. Any player not registered by Monday 30th of September will not be permitted to play any further games for insurance reasons. Any geniune hardship cases will be treated with sympathy and discretion through the Club Chairman, Dermot Egan

Step 1 - Ensure you know which team your child is assigned to and will be playing on (except development squad). Download the club registration form and complete - please include mobile numbers and email addresses for ease of contact. This form must be signed by a parent/guardian. One form for each family, same form for Development Squad

Step 2 – Pay the appropriate subscription fee as per the tables below and also on the back of the registration form. Bring the completed form and subscription fees to one of the registration sessions - see above for dates and times of the registration sessions.

Step 3 - The player and parent/guardian must also complete the SDFL League Registration Form as part of registration. This can be done when registering and paying the subscription fee or in exceptional cases via the manager of each team. (Note: the Club Registration form, i.e. steps 1 and 2 above must also be completed in addition to completing the SDFL League Registration Form)

Club Registration Form Download Registration form (PDF)

(Page last updated Tuesday 17-Sep-2013 10:40)

more >
---
Granada Training Timetable
Sep 12, 13
Training will resume in Carysfort National School on Monday 16th of September.
Mon. 5pm Under 8 and under 9c
6pm Under 9A and 9B
7pm 14 Premiers
8.30pm 16 Premiers
Tues. 5pm Under 8s
6pm Under 10 B and C
7pm Under 10A
8pm Under 14B
Wed 6pm Under 13 Premier
7pm Under 15 Premier
8pm Under 13B
9pm Under 19 MQ
Thur. 6pm Under 12
7pm Under 15B
8pm Under 16B
Fri. 5pm 11B/C Teams
6pm Under 11 A
7pm Under 19 FO'R
more >
---
© Granada Football Club 2014 | Website Design by
...Dotwebs