Welcome to Granada Football Club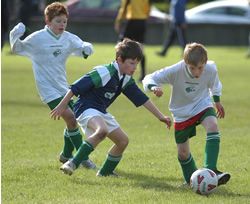 Granada Football Club is one of the largest schoolboy/schoolgirl clubs in Dublin. We have close to 400 players and are fielding 30 teams every weekend from August-May, on a completely voluntary basis.
The club uses pitches at Holly Park primarily for
Patek Grand Complications watch is generally made from gold, platinum and pink gold. Incidents where have 18-carat gold with pink Franck Muller Ronde Replica Watches gold within the Replica Breitling Blackbird Franck Muller Ronde Replica Watches case. Hublot Big Bang Limited Edition Replica You can purchase the watch having a sapphire Hublot Big Bang Replica watches crystal back, crocostrap, Patek logo design buckle, mechanical movement, chronograph, along with a perpetual calendar filled with day, date, month and year. You will find watches with whitened, black, grey, silver, and blue dials.
seven-a-side games and at Meadowvale just off Clonkeen Road.
The club also has a "Development Squad", preparing those younger children for the Under 8 leagues.
New Season - Registration and Fees for this Season (2015-16)
Sep 1, 15
This year we will be introducing a new streamlined registration process:
- Ensure you know which age group you are playing with: e.g Development (DEV), u8, u9, u10, to u18
- every player must complete the club registration online and pay the appropriate fees as set out below:
- Category 1 €275: 1 Child playing on a team from u8 to u18
- Category 2 €195: 1 Child playing with Development (DEV) Squad
- Category 3 €440: 2 Children playing on teams from u8 to u18
- Category 4 €400: 1 Child playing with Development Squad and 1 Child playing on a team from u8 to u18
- Category 5 €320: 2 Children playing with Development Squad
- Category 6 €550: 3 or more children (Family Membership) playing on any team including Development Squad
Subscription fees include provision of socks and shorts for new players, training/coaching, hire of all-weather facilities, league fees, referee fees etc. - no other additional fees. Payment can be made via a single payment or via instalments through EPP.
Each player and parent (except for Development Squad) will also need to complete a League Registration form and this will be through the manager of the the team that you are playing on.
TO PAY ONLINE - click on the 'Join Here' Button below
Players who have not registered with the club and paid their subscription fees before the end of October 2015 will not be permitted to play matches in November. If you have any queries relating to registration and payment of subscription fees, please email info@granadafc.com
If you are enquriing about signing up re-signing for Granada FC, please contact the following age Group co-ordinators:
- Development (DEV) (Children Born 2009 & later) - info@granadafc.com
- u8s: (Children Born in 2008) - Guy Fletcher, 087 207 4079, guy.r.fletcher@gmail.com
- u9s: (Children Born in 2007) - info@granadafc.com
- u10s: (Children Born in 2006) - Neil Kerrigan, 087 266 7269, Neil.Kerrigan@enterprise-ireland.com
- u11s (Children Born in 2005)- Alan McGilton, 086 245 5315, alanmcgilton@yahoo.com
- u12s (Children Born in 2004) - Paul Sweeney, 087 417 6424, paulzsweeney@gmail.com
- u13s (Children Born in 2003) - info@granadafc.com
- u14s (Children Born in 2002) - Simon Egan, 087 378 2859, simon.egan@landisgyr.com
All other enqueries should be sent to info@granadafc.com
Start-up dates for various age groups are as follows:

- Development Squad (up to 8 years of age) - Saturday 12th September Holly Park at 9.20am
- 11-aside games (u13 - u18) - Saturday and Sunday 5th/6th September
- Small Sided Games (u8 to u12) - Saturday 12th September
Any player who is playing for a team from u8 to u18 must complete the full registration process as outlined above (i.e the league registration form and the club registration online). Any player not registered by the end of October will not be permitted to play any further games for insurance reasons. Any genuine hardship cases will be treated with sympathy and discretion.

(Page last updated Tuesday 01-Sep-2015 23:25)

more >
---
GRANADA BLITZ 2015 - CHAMPIONS LEAGUE WEEKEND
Aug 31, 15
Photos for the Blitz available - review at https://flic.kr/s/aHskfP88Dg If you wish to order any photos, please email Stephen Tierney at stephen@tierneyhaines.com with the photo numbers that you wish to order. They will then be printed and can be collected from Les in the Coffee Shop over the next few Saturdays
Saturday matches stat: - 356 goals across 42 games!
(Click 'More>' below to see details for Sunday games)

PLEASE SEE BELOW A LIST OF DO'S AND DON'TS FOR THE WEEKEND
•DO ARRIVE WELL AHEAD OF YOUR FIRST KICK OFF TIME ON BOTH DAYS. THERE ARE GOALS TO BE ASSEMBLED AND PITCHES TO BE SET UP. WE REQUIRE PARENTS TO GET INVOLVED TO ENSURE WE KEEP TO THE SCHEDULE.
•DO GET INVOLVED - TEAM MANAGERS REQUIRED FOR ALL TEAMS. VOLUNTEER!
•DO GET INVOLVED - SHOP ASSISTANTS REQUIRED - SPEAK TO LES IN THE SHOP - EVEN AN HOUR MAKES A DIFFERENCE - VOLUNTEER!
•DO GET INVOLVED - IF YOU ARE A WANNABE JAMIE OLIVER ON THE BBQ, WE NEED YOU TO FLIP BURGERS - VOLUNTEER!
•DO ENCOURAGE ALL THE PLAYERS ON YOUR CHILDS TEAM
•DON'T CHALLENGE ANY REFEREEING DECISION. NO EXCEPTIONS
•DO NOT PARK YOUR CAR IN A MANNER THAT INCONVENIENCES OUR NEIGHBOURS. THERE IS SOME PARKING AVAILABLE AT HOLLYPARK BOYS SCHOOL AND AROUND THE SPRINGHILL ESTATE. THE GARDAI IN BLACKROCK WILL BE MONITORING ILLEGALLY PARKED CARS. TO AVOID A PARKING FINE, GET A LIFT, WALK OR CYCLE.
•REMEMBER THAT THE WEEKEND IS ABOUT THE KIDS AND THEIR ENJOYMENT OF THE GREATEST GAME ON EARTH.
•VOLUNTEER!

(Page last updated Monday 31-Aug-2015 07:20)
(click 'More >' for further details on all of the above:
more >
---
Training schedule this week in Holly Park WC Mon 31st August 2015
Aug 29, 15
Week Commencing Monday 31st August - Training Schedule in Holly Park
Monday: u11s at 18:45
Monday u12s at 18:45
Tuesday:u10s at 18:45
Wednesday: u9s at 18:45
(Page last updated Sat 29-Aug-2015 18:00)
more >
---
© Granada Football Club 2015 | Website Design by
...Dotwebs