Welcome to Granada Football Club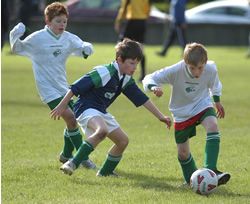 Granada Football Club is one of the largest schoolboy/schoolgirl clubs in Dublin. We have close to 400 players and are fielding 30 teams every weekend from August-May, on a completely voluntary basis.
The club uses pitches at Holly Park primarily for seven-a-side games and at Meadowvale just off Clonkeen Road.
The club also has a "Development Squad", preparing those younger children for the Under 8 leagues.
Fixtures in Mount Albany, Holly Park & Meadowvale this weekend 7th - 8th December 2013

Dec 5, 13
- SSG Fixtures for Saturday will be played in Holly Park Pitch 2, u8 (3v3) & u9(5v5) will take place on Pitch 1 in front of Club House - Please note that all games on Saturday scheduled for 'Holly Park' are on in either (a) Holly Park and (b) Mount Albany as outlined below. The Mount Albany PITCHES ARE NEAR THE PLAYGROUND AND NEWPARK TENNIS CLUB - A SHORT WALK FROM HOLLY PARK PITCH PLEASE PARK LEGALLY AS WE HAVE BEEN WARNED THAT GARDAI WILL BE PRESENT ON FOOT OF COMPLAINTS FROM LOCAL RESIDENTS Fixture details for all teams outlined below (click 'More >' to see full list:

- Home games in Holly Park on Saturday
- Home games in Mount Albany on Saturday
- Home game in Meadowvale on Saturday
- Away, IDLE and OFF fixtures on Saturday
- Home games in Meadowvale on Sunday
- Home games in Holly Park on Sunday
- Away, IDLE and OFF fixtures on Sunday

- Full fixture list in team order for the whole weekend

(click 'more >' to see full list for all Granada Teams this weekend:

(Page last updated Thursday 05-Dec-2013 23:40)
more >
---
Annual Presentation Day - Sunday 10th of November 2013

Nov 15, 13
Pictures of player award winners from Presentation Day can be found at https://www.dropbox.com/sh/0t144d2uwnpyzrt/uM7C3NZsvs
(Thanks to Joe St-Leger for taking these and publishing them)
The annual club Presentation Day will take place on Sunday the 10th of November 2013 at Stillorgan Park Hotel at 4.00pm. FREE CAR PARKING for all those attending the presentation day. This is for presentation of player awards for all teams at u8 to u18 for last season - 2012-13. All players from last season should attend.

We will be running a raffle on the day and would be grateful if people could donate some prizes. Please bring them along on the day or contact Ciaran Kane with details (Ciaran_Kane@hotmail.com or 087 638 6033)


(Page last updated Friday 15-Nov-2013 19:40)
more >
---
Registration for 2013-14 Season

Sep 27, 13
Registration and subscription fees for 2013-14 season:
The next registration sessions will take place on Saturday 28th of September 10am to 12pm in the Club House, Holly Park.

- Registration for all players from development, 3x3 to U19 teams will take place at the Club House Holly Park 7-9pm this Saturday 28th September from 10am to 12pm.

All players u9 - u19 must be registered before first games of new season. The Development Squad is running each Saturday at 9.20am in Holly Park.



The registration process will follow the same process as last year.

Anyone who is wishes to register for the Development Squad (children born in 2006 & 2007) should download the same form for registration as detailed below. The Development Squad will commence Saturday the 21st of September in Holly Park at 9.20am.

Any player who is playing u8 3x3 should also download the same form for registration as detailed below.

Any player who is playing for a team from u9 to u19 must complete the full registration process as outlined below. Any player not registered by Monday 30th of September will not be permitted to play any further games for insurance reasons. Any geniune hardship cases will be treated with sympathy and discretion through the Club Chairman, Dermot Egan

Step 1 - Ensure you know which team your child is assigned to and will be playing on (except development squad). Download the club registration form and complete - please include mobile numbers and email addresses for ease of contact. This form must be signed by a parent/guardian. One form for each family, same form for Development Squad

Step 2 – Pay the appropriate subscription fee as per the tables below and also on the back of the registration form. Bring the completed form and subscription fees to one of the registration sessions - see above for dates and times of the registration sessions.

Step 3 - The player and parent/guardian must also complete the SDFL League Registration Form as part of registration. This can be done when registering and paying the subscription fee or in exceptional cases via the manager of each team. (Note: the Club Registration form, i.e. steps 1 and 2 above must also be completed in addition to completing the SDFL League Registration Form)

Club Registration Form Download Registration form (PDF)

(Page last updated Tuesday 17-Sep-2013 10:40)

more >
---
© Granada Football Club 2013 | Website Design by
...Dotwebs