Welcome to Granada Football Club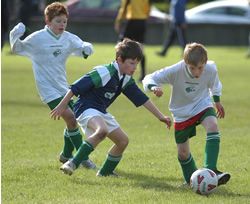 Granada Football Club is one of the largest schoolboy/schoolgirl clubs in Dublin. We have close to 400 players and are fielding 30 teams every weekend from August-May, on a completely voluntary basis.
The club uses pitches at Holly Park primarily for seven-a-side games and at Meadowvale just off Clonkeen Road.
The club also has a "Development Squad", preparing those younger children for the Under 8 leagues.
Registration for Season 2014-15
Sep 25, 14
Registration and subscription fees for 2014-15 season:
THERE WILL BE A REGISTRATION SESSION at the CLUB HOUSE, HOLLY PARK THIS SATURDAY 27th of SEPTEMBER from 10am to 12pm
Details on the next registration session(s) will be publised here shortly. if you are enquriing about signing up re-signing for Granada FC, please contact the following age Group co-ordinators:
- Development (Childeren Born in 2008 & later) - Guy Fletcher, 087 207 4079, guy.r.fletcher@gmail.com
- U8s (Children Born in 2007) and u9s (Children Born in 2006) - Neil Kerrigan, 087 266 7269, Neil.Kerrigan@enterprise-ireland.com
- U10s (Children Born in 2005) and u11s (Children Born in 2004) - Paul Sweeney, 087 417 6424, paul.z.sweeney@aib.ie
- u12s (Children Born in 2003) - William Norse, 086 299 6627, willie.norse@cbre.com
- u13s (Children Born in 2002) - Simon Egan, 087 3782859, simoegan@cisco.com
All other enqueries should be sent to info@granadafc.com
Start-up dates for various age groups are as follows:
- u21, Leinster Football League - Sunday 31st of August
- Development Squad (up to 8 years of age) - Saturday 13th September Holly Park at 9.20am
- 11-aside games (u12 - u18) - Saturday and Sunday 13th/14th September
- Small Sided Games (u8 to u11) - Saturday 20th September
All players u8 - u18 must be registered before first games of new season. The Development Squad is running each Saturday at 9.20am in Holly Park.
The registration process will follow the same process as last year.
Anyone who is wishes to register for the Development Squad (children born in 2008 & later) should download the same form for registration as detailed below. The Development Squad will commence Saturday the 13th of September in Holly Park at 9.20am.
Any player who is playing for a team from u8 to u18 must complete the full registration process as outlined below. Any player not registered by the end of October will not be permitted to play any further games for insurance reasons. Any geniune hardship cases will be treated with sympathy and discretion.
Step 1 - Ensure you know which team your child is assigned to and will be playing on (except development squad). Download the club registration form and complete - please include mobile numbers and email addresses for ease of contact. This form must be signed by a parent/guardian. One form for each family, same form for Development Squad
Step 2 – Pay the appropriate subscription fee as set out below below (also on the back of the registration form). Bring the completed form and subscription fees to one of the registration sessions - see above for dates and times of the registration sessions. THis season we have introduced online payments using Electronic Payments Plus or EPP, simply hit the 'Join Now' button below to make an online payment.

Step 3 - The player and parent/guardian must also complete the SDFL League Registration Form as part of registration. This can be done when registering and paying the subscription fee or in exceptional cases via the manager of each team. (Note: the Club Registration form, i.e. steps 1 and 2 above must also be completed in addition to completing the SDFL League Registration Form).
Forms: Download Registration form (PDF) - Updated for Season 2014-2015

(Page last updated Friday 19-Sep-2014 09:10)

more >
---
Girls Soccer - Each Sunday morning in Blue Pool, Monkstown

Sep 25, 14
Girls Soccer Sessions Started SUNDAY 21st September 11.0AM – 12.00PM and will continue through to November
Blue Pool Monkstown
OPEN TO ALL GIRLS BORN 2002 – 2008
JUST TURN UP ON THE DAY AND BRING A FRIEND OR TWO!
WEEKLY TRAINING WITH QUALIFIED COACHES WILL continue between now and the end of November
IF YOU ARE INTERSTED IN BEING PART OF THE GRANADA GIRLS DEVELOPMENT SQUAD - JUST DROP US AN E-MAIL AT INFO@GRANADAFC.COM
more >
---
Interested in playing with u13s or u15Bs this season?
Sep 15, 14
Places available on u13 and U15B Teams for this Season (2014-15)
The new season is here with the development squad and small sided teams getting their first run outs last Saturday. We are struggling with numbers to complete squads for the U13 and the U15B teams. Do you have a son, friends, nephews or know of any boys living in your area who were born in 20002 (u13) or 2000 (u15), who would like to tog out and play soccer with Granada this season?

U13s contact Simon Egan - 087 3782859 simoegan@cisco.com , training this Thursday at 6.30pm in Holly Park 7-8pm Carysfort National School, Blackrock
U15Bs, contact Ken McWilliams - 086 220 2095, karamcwilliams@eircom.net , training this Tuesday and Thursday at 6.30pm in Holly Park
If anyone who wishes to play at u13 or U15 this season – just drop by to one of the sessions above and make contact with the respective managers.

Thank You,

Simon (u13) and Ken (u15B)
more >
---
© Granada Football Club 2014 | Website Design by
...Dotwebs