Welcome to Granada Football Club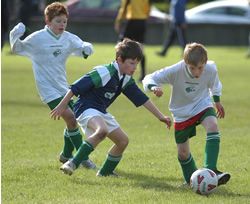 Granada Football Club is one of the largest schoolboy/schoolgirl clubs in Dublin. We have close to 400 players and are fielding 30 teams every weekend from August-May, on a completely voluntary basis.
The club uses pitches at Holly Park primarily for seven-a-side games and at Meadowvale just off Clonkeen Road.
The club also has a "Development Squad", preparing those younger children for the Under 8 leagues.
Assie Sattar Financial Services Sponsors Granada Management and u21 Team 2

Jan 26, 15
Assie Sattar Financial Services have kindly supported our club by providing team jackets for the Under 21 (2) Team) and also providing smart new warm and rain proof jackets for all our managers and coaches
We would like to tell you a bit more about them, and the services they provide.They have two unique services called:
- Tidy up My Cover
- Tidy up My Pension
These services are designed for people who;
- Have lost track of their pension plans
- Have left valuable pension benefits behind in the control of a previous employer
- Paying many direct debits to various insurance companies and don't know what they cover
- Haven't reviewed their mortgage cover for cost effective savings.
These services are not about buying more, or paying more.They simply help you find your old pensions, and try save you money on your Life Assurance Cover. If you would like to learn more about Assie Sattar Financial Services, simply click www.asfs.ie to visit their website where you can find their contact details and references from many happy customers, some of which are members of our club.
click 'More >' to learn more about Assie Sattar Financial Services
(Page last updated Monday 26-Jan-2015 19:30)
more >
---
Final Call for Registration and Fees for this Season (2014-15)
Jan 23, 15
Registration and subscription fees for 2014-15 season - Now Well Overdue!:
YOU CAN PAY ONLINE by hitting the 'Join Here' Button below
Players who have not registered with the club and paid their subscription fees before fixtures commence in January 2015 will not be permitted to play when the season resumes after the Christmas break. If you have any queries relating to registration and payment of subscription fees, please email info@granadafc.com
If you are enquriing about signing up re-signing for Granada FC, please contact the following age Group co-ordinators:
- Development (Children Born in 2008 & later) - Guy Fletcher, 087 207 4079, guy.r.fletcher@gmail.com
- U8s (Children Born in 2007) and u9s (Children Born in 2006) - Neil Kerrigan, 087 266 7269, Neil.Kerrigan@enterprise-ireland.com
- U10s (Children Born in 2005) and u11s (Children Born in 2004) - Paul Sweeney, 087 417 6424, paul.z.sweeney@aib.ie
- u12s (Children Born in 2003) - William Norse, 086 299 6627, willie.norse@cbre.com
- u13s (Children Born in 2002) - Simon Egan, 087 3782859, simoegan@cisco.com
All other enqueries should be sent to info@granadafc.com
Start-up dates for various age groups are as follows:
- u21, Leinster Football League - Sunday 31st of August
- Development Squad (up to 8 years of age) - Saturday 13th September Holly Park at 9.20am
- 11-aside games (u12 - u18) - Saturday and Sunday 13th/14th September
- Small Sided Games (u8 to u11) - Saturday 20th September
All players u8 - u18 must be registered before first games of new season. The Development Squad is running each Saturday at 9.20am in Holly Park.
The registration process will follow the same process as last year.
Anyone who is wishes to register for the Development Squad (children born in 2008 & later) should download the same form for registration as detailed below. The Development Squad will commence Saturday the 13th of September in Holly Park at 9.20am.
Any player who is playing for a team from u8 to u18 must complete the full registration process as outlined below. Any player not registered by the end of October will not be permitted to play any further games for insurance reasons. Any genuine hardship cases will be treated with sympathy and discretion.
Step 1 - Ensure you know which team your child is assigned to and will be playing on (except development squad). Download the club registration form and complete - please include mobile numbers and email addresses for ease of contact. This form must be signed by a parent/guardian. One form for each family, same form for Development Squad
Step 2 – Pay the appropriate subscription fee as set out below below (also on the back of the registration form). Bring the completed form and subscription fees to one of the registration sessions - see above for dates and times of the registration sessions. THis season we have introduced online payments using Electronic Payments Plus or EPP, simply hit the 'Join Here' button below to make an online payment.

Step 3 - The player and parent/guardian must also complete the SDFL League Registration Form as part of registration. This can be done when registering and paying the subscription fee or in exceptional cases via the manager of each team. (Note: the Club Registration form, i.e. steps 1 and 2 above must also be completed in addition to completing the SDFL League Registration Form).
Forms: Download Registration form (PDF) - Updated for Season 2014-2015

(Page last updated Friday 23-Jan-2015 23:30)

more >
---
Development Squad will Operate in Blue Pool Monkstown over Winter Months
Nov 13, 14
SEE NOTE BELOW - DEVELOPMENT SQUAD WILL OPERATE FROM BLUE POOL MONKSTOWN DURING WINTER MONTHS
From: Guy Fletcher [mailto:guy.r.fletcher@gmail.com]
Sent: 12 November 2014 20:20
Subject: Granada Development Squad - change of venue
Good evening all,
Following last weekend's deluge, the pitches up at Holly Park are pretty much unplayable.
As such, Development Squad training will be switching to the all weather pitches at the Blue Pool, Monkstown. Click on the url below for a map if required. There's loads of parking available.
http://dlrleisureservices.ie/monkstown/location.php
Development squad will play on these all weather pitches throughout the winter months. We'll switch back to the Holly Park pitches sometime in the spring - I'll communicate the timing later.
We'll kick off at the normal time on Saturday, 9.30. Let's hope for some better weather.
Any questions, please get in touch.
Regards,
Guy
(Page last updated Thursday 13-Nov-2014 09.50)
more >
---
© Granada Football Club 2015 | Website Design by
...Dotwebs