Welcome to Granada Football Club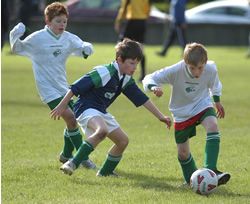 Granada Football Club is one of the largest schoolboy/schoolgirl clubs in Dublin. We have close to 400 players and are fielding 30 teams every weekend from August-May, on a completely voluntary basis.
The club uses pitches at Holly Park primarily for seven-a-side games and at Meadowvale just off Clonkeen Road.
The club also has a "Development Squad", preparing those younger children for the Under 8 leagues.
Summer Camps 2015
Jul 2, 15
You can register and make payments in person for the Summer Camp next Monday 6th of July at 9.45am before camp starts at 10am at the Club House in Holly Park.
Camps will run for 5 days from 10:00am to 2:30pm each day.
The camps are open to children in Devlopment Squad up to and including u10 year old players. The camps are open to Granada and non-Granada players.
Camp 2: Monday 6th of July to Friday 10th of July
- Venue: Holly Park
- Cost: 80 euros per child, two children 140 euros
- What to bring: (1) Football gear, (2) Boots and shinguards, (3) Rain Gear, (4) Sun Cream, (5) Snack
(Click 'More >' for further details on how to register below.
(Page Last Updated Tuesday 02-Jul-2015 23:40:)
more >
---
Granada Blitz 2015 - Will take place at the end of August - Register now!

Jun 23, 15
You can register and make payments in person for the Annual Blitz and/or Summer Camps this Tuesday 23rd June from 7pm to 8pm and Wednesday 24th of June between 7 and 8.30pm at the club House in Holly Park
The Granada FC Annual Blitz for 2015 will take place on the weekend of Saturday 29th to Sunday 30th August in Holly Park.
Registration and Payment can be made this Wednesday 17th of June at the Club House, Holly Park from 7pm to 8.30pm.
Anyone who wishes to register in advance for this years blitz should send in their details via email to info@granadafc.com - as set out below:

• Player Name & Current Granada Team (Season 2013-14)
• Date of Birth (DOB) (DD/MM/YYYY format)
If you are already registered with Granada for the 2013-14 then we will have all your details, otherwise please provide the following details in your email or when you come to register:
1 - School
2 - Medical Condition(s) (if any)
3 - Other Club Team (if applicable)
4 - Parent/Guardian (1) Name:
5 - Parent/Guardian (1) Mobile Number:
6 - Parent/Guardian (1) email address:
7 - Parent/Guardian (2) Name:
8 - Parent/Guardian (2) Mobile Number:
9 - Parent/Guardian (2) email address:
There will be tournaments across a range of age groups from U7 - U14, with all participants guaranteed 5 games - 3 on Saturday and 2 on Sunday. For the sixth year running there is no change in the cost of participating - EUR30 per child, EUR25 per child for two or more from the same family. The Blitz is open to all players registered with Granada for this season 2014-15. There may be a limited number of places available to non Granada players, depending on demand. This year's event will again have a World Cup theme.
You can also register online using Electronic Payments Plus or EPP, simply click the link here -> https://pay.easypaymentsplus.com/feepay1.aspx?id=515 to register and pay online.
The running of the event consumes significant resources – financial and human. If you can help out in any way with the running of the event, or with sponsorship / advertising, please contact the committeee via info@granadafc.com
(Page last updated Tuesday 23-Jun-2015 08:20)
more >
---
Note that Mid-Week fixtures start Week Commencing Monday 13th April 2015
Apr 13, 15
The latest fixtures for the South Dublin League (SDFL) are published each Tuesday in the Herald and appear on the SDFL website that night. Click on this link:--> www.sdfl.ie/clubfixturesbydate/30545/granada and go to the bottom of the page to see the latest fixtures for each Granada Team - u8 3v3 to u17s:
- Home Fixtures in Holly Park/Mount Albany and Meadowvale
- Away fixtures
- Saturday, Sunday and mid-week games
(Page last updated Monday 13-Apr-2015 22:00)
more >
---
© Granada Football Club 2015 | Website Design by
...Dotwebs