Welcome to Granada Football Club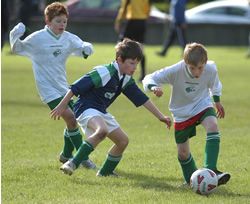 Granada Football Club is one of the largest schoolboy/schoolgirl clubs in Dublin. We have close to 400 players and are fielding 30 teams every weekend from August-May, on a completely voluntary basis.
The club uses pitches at Holly Park primarily for seven-a-side games and at Meadowvale just off Clonkeen Road.
The club also has a "Development Squad", preparing those younger children for the Under 8 leagues.
Closing Registration for the Blitz which will take on Saturday 30th and Sunday 31st of August
Aug 10, 14
The Granada FC Annual Blitz for 2014 will take place on the weekend of Saturday 30th to Sunday 31st August in Holly Park.
There are still some places left - Anyone who wishes to register for this years blitz should send in their details via email to info@granadafc.com - as set out below. There will be a final registration session at the Club House in Holly Park on Tuesday 26th of August from 7pm to 8.30pm. Anyone registrating via email can drop by then with payment or pay via our new EPP Service (once your registration is confirmed via email, you will receive details on how to pay using Debit or Credit Card via the EPP Service):


•Player Name & Current Granada Team (Season 2013-14)
•Date of Birth (DOB)
If you are already registered with Granada for the 2013-14 then we will have all your details, otherwise please provide the following details in your email or when you come to register:
1 - School
2 - Medical Condition(s) (if any)
3 - Other Club Team (if applicable)
4 - Parent/Guardian (1) Name:
5 - Parent/Guardian (1) Mobile Number:
6 - Parent/Guardian (1) email address:
7 - Parent/Guardian (2) Name:
8 - Parent/Guardian (2) Mobile Number:
9 - Parent/Guardian (2) email address:
There will be tournaments across a range of age groups from U7 - U14, with all participants guaranteed 5 games - 3 on Saturday and 2 on Sunday. For the sixth year running there is no change in the cost of participating - EUR30 per child, EUR25 per child for two or more from the same family. The Blitz is open to all players registered with Granada for this season 2013-14. There is a limited number of places available to non Granada players, depending on demand. This year's event will have a World Cup 2014 theme.
The running of the event consumes significant resources – financial and human. If you can help out in any way with the running of the event, or with sponsorship / advertising, please contact the committeee via info@granadafc.com
(Page last updated Sunday 10-Aug-2014 21:15)
more >
---
Double Double for U9a....
Jul 19, 13
Granada U9a finished out an extremely competitive and exciting season by securing the League & League Cup Double

more >
---
U15 Premier League winners look to strengthen squad.
Jul 1, 13
Were you born in 1998?
more >
---
© Granada Football Club 2014 | Website Design by
...Dotwebs